Stecamat 860
Processor-controlled charger for lead-acid batteries
X
Stecamat 860
Processor-controlled charger for lead-acid batteries
Description
Features
Downloads
Technical data
Compare products
Description
The battery charger Stecamat 860 is available in a dust and hoseproof housing. The processor-controlled charging process ensures gentle and rapid charging of your battery. The Stecamat 860 also enables the processing of damaged or totally discharged batteries, ensuring long service life. A LED provides rapid information on the state of charge.
Maximum flexibility is provided by the extensive features. This and the easy handling of the device make for trouble-free operation.
Features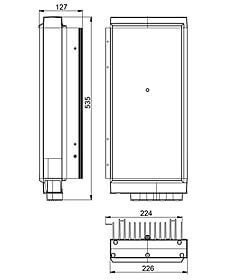 Product features
IP 65 jet waterproof casing

Half the charging time compared to simple, non-controlled chargers with the same rated current

Optimal for charging batteries with liquid electrolyte and gel / absorbed electrolyte (AGM)

Suitable for totally discharged batteries

Constant battery operational readiness through integrated trickle charge

Charging below the gassing voltage

Optimal charging of damaged batteries

Potential-free contact for ventilator control of the battery room venting system
Electronic protection functions
Protection in the case of wrong or damaged batteries

Battery overcharge protection

Charger output protected against short circuits, reverse polarity and overvoltage
Displays
Multi-coloured LED shows operating states
Operation
Interfaces
Control contact for ventilation control system in accordance with DIN EN 50272
Options
IO box with mains plug and relay for ventilator control
Downloads
Certificates
Product data sheet
Manuals
Product pics, technical drawings, etc.
Technical data
860-12
860-24
860-48
Charging rated voltage
Charge current
End-of-charge voltage
Trickle charge voltage
Characteristic curve
Grid voltage
Frequency
Mains electricity (230 V)
Discharge current during grid failure
Protection class
Casing
Degree of protection
Ambient temperature
Cooling principle
Dimensions (X x Y x Z)
Weight