StecaGrid SEM
Smart Energy Manager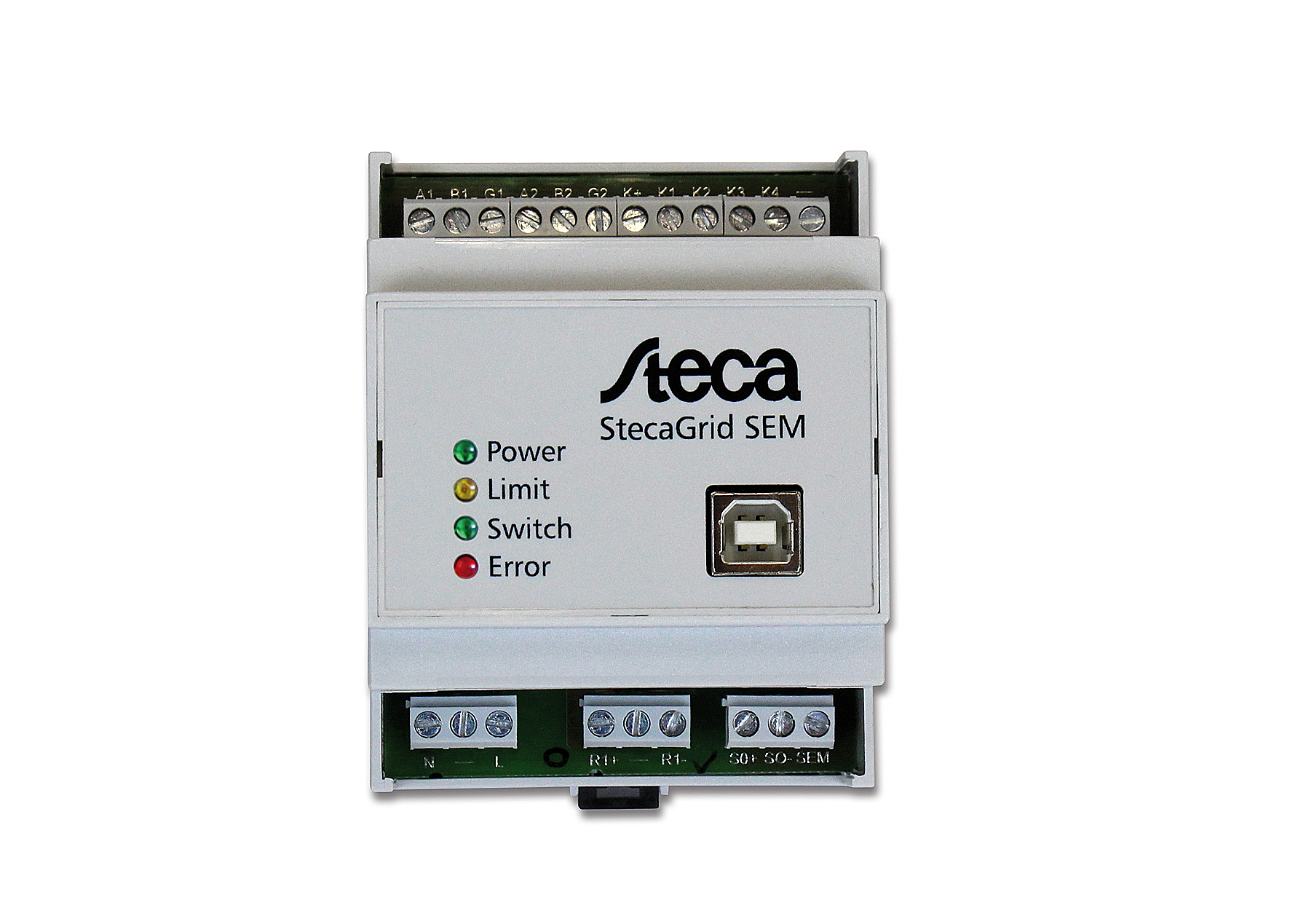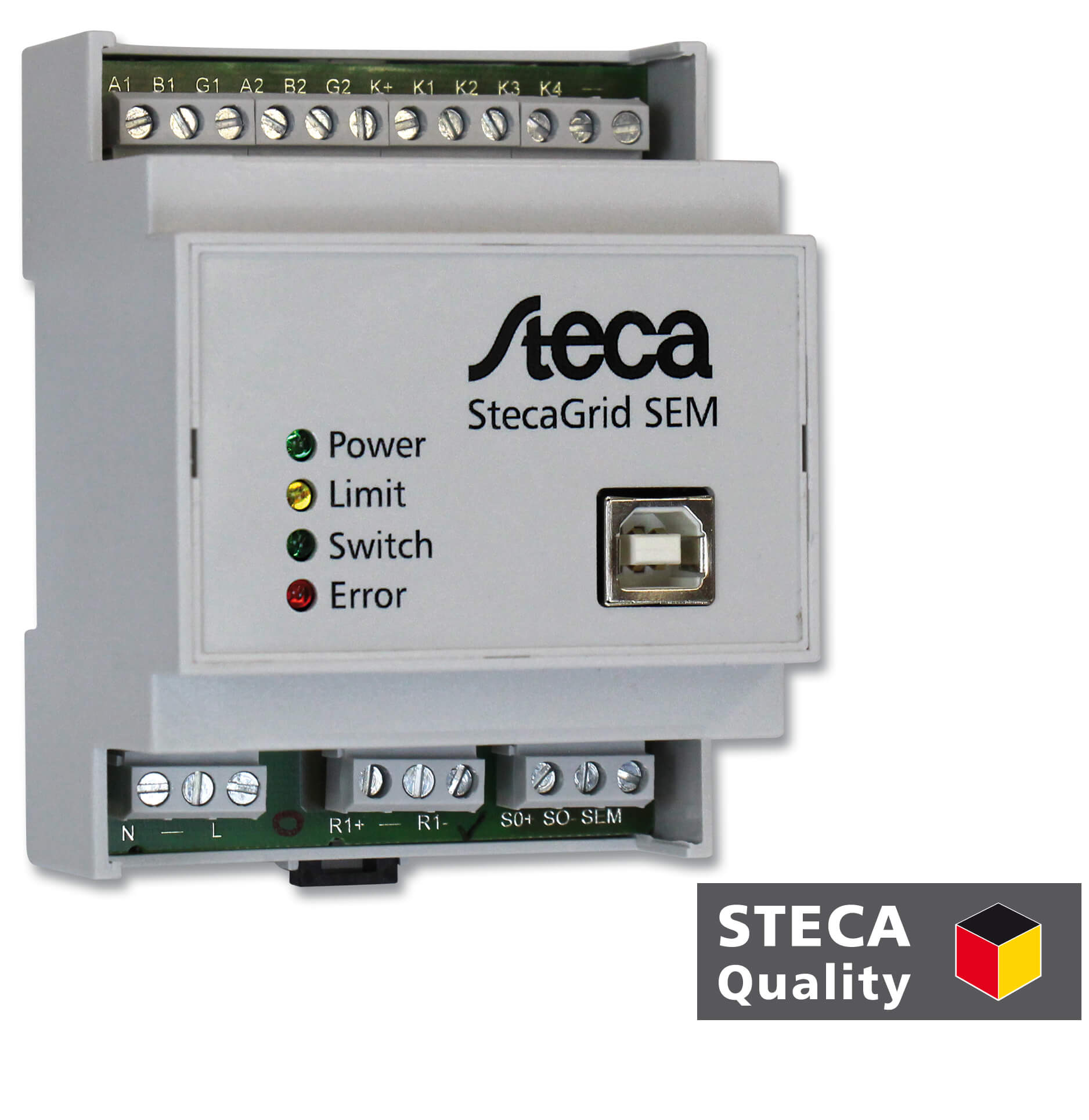 X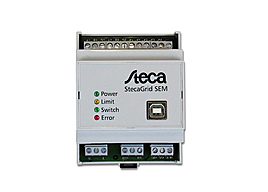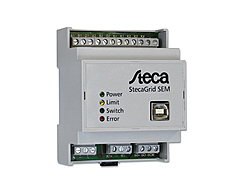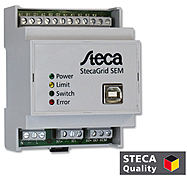 StecaGrid SEM
Smart Energy Manager
Description
Features
Downloads
Technical data
Compare products
Description
Smart Energy Manager for coolcept fleX, coolcept³ fleX, coolcept fleX XL.
The feed-in management solution
The StecaGrid SEM offers different options of realising feed-in management with a photovoltaic system. A ripple control receiver from the relevant distribution grid operator can be connected. The feed output at the grid connection point can be limited to an adjustable value, or the ripple control signal can be switched to the relay output. Up to ten inverters can be connected to the StecaGrid SEM via the RS 485 interface.

Easiest installation
StecaGrid SEM can be installed in the switching cabinet right next to the ripple control receiver. The casing features a dimensioning typical for switching cabinets and can be mounted onto a top-hat rail. Direct power supply at 230 V. A mains adapter plug or an external direct current power supply are not required.

All connected StecaGrid inverters can be accessed via a USB interface on the StecaGrid SEM. Connection to a PC is possible via a standard USB cable. The interface is on the front side of the casing – the cover does not need to be removed in the switching cabinet.
Features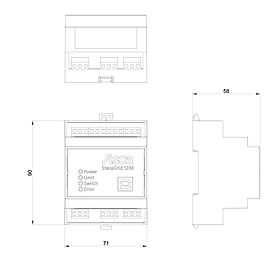 Product features
Wall-mounting with top-hat rail

Compact and robust product design

Quiet and emission-free

Maintenance-free

Firmware update possible
Displays
4 LEDs show operating states
Interfaces
Options
Can be connected to a data logger
Certificates
Compliant with European Standards (CE)

Made in Germany
Downloads
Certificates
Product data sheet
Manuals
Product pics, technical drawings, etc.
Technical data
StecaGrid SEM
Characterisation of the operating performance
Own consumption
Operating conditions
Area of application

indoor rooms with or without air conditioning

Interface to inverter

Steca RS-485 bus with max. 1,000 m cable length and 10 bus participants at maximum

Ambient temperature
Storage temperature
Relative humidity
Noise emission
Fitting and construction
Degree of protection
Terminal (fine / single wire)
Dimensions (X x Y x Z)
Weight
Power supply
Communication interface

2 x RJ45; 4 x analogue for ripple control receiver, via screw-type terminals; USB, type B socket; S0 interface

Relay output

potential-free contact, 250 V AC / 16 A

Test certificate

see certificate download on the product page