StecaGrid Connect User
Software for remote monitoring
X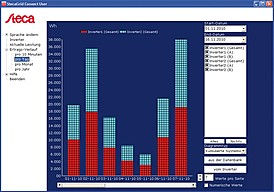 StecaGrid Connect User
Software for remote monitoring
Description
Features
Downloads
Description
The economic viability of the solar power system is determined by the daily energy yields which the system generates from solar energy. StecaGrid inverters allow these values to be accessed and analysed at any time. These features allow complete, integrated monitoring of the solar power system.
Data logging
In order to provide an easy overview of the system functions, voltage, current, module output, grid frequency and grid voltage, among other values, are measured within the inverter. The energy yields of both the master and slave units are also stored on a daily, monthly and yearly basis. These measured values and the operating status of the StecaGrid system can be read on the user-friendly display.
Data communication
Using the software and the network interface card StecaGrid Connect, you also have the option to download the StecaGrid system data and process it on a PC. This allows the stored data to be not just read but also transferred to your own PC in a structured form and evaluated in any manner you wish. Naturally, this program also provides a preconfigured graphical display of the values. The appropriate software – provided for free of course – is available in a system operator version, and an installer version. On the one hand, this difference protects the system operator (user) from intentional or unintentional manipulation of their own system. On the other hand, the installer (service) can make necessary changes quickly and exactly, without needing to be on-site. This guarantees a seamless and timely service.
Monitoring
If the inverter is permanently connected to the Internet, then the data can be accessed via a web browser, or StecaGrid Connect User, from any location using StecaGrid Connect and a corresponding password. This allows the system to be monitored at any time, from anywhere in the world. Naturally, you can also use this function to present your own PV system and provide impressive demonstrations of its functionality and yields. This is made possible by the provision of special HTML pages. These show all the values stored by the inverter. Both the current performance and yields obtained in the past can be quickly and flexibly accessed. To guarantee a high level of security, access to these personal HTML pages is of course password-protected.
Downloads
Product data sheet
Manuals
Software