Steca Tarom MPPT
6000-S, 6000-M
Two independent maximum power point trackers (MPP trackers)

Excellent efficiency

Professional battery maintenance, suitable for many battery types

Input voltages range up to 200 V (for 12/24/48 V)

Easy installation (35 mm² terminals)
X
Steca Tarom MPPT
6000-S, 6000-M
Description
Features
Downloads
Technical data
Compare products
Description
The new design for the Steca Tarom sets new standards in this power class. The graphic display informs the user of all important system data. The data are saved by the integrated data logger.

Thanks to the significantly improved state of charge determination, the system is optimally controlled and the batteries are protected. The Steca Tarom charge controller is the ideal choice for larger systems at three voltage levels (12 V, 24 V, 48 V).

Two additional switching contacts can be freely configured as a timer, a night light function, to start generators or as surplus management.
Features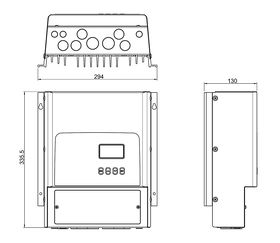 Product features
Two independent maximum power point trackers (MPP trackers)

Two inputs (connected in parallel or used separately for two different module arrays)

Robust metal casing

Comprehensive data logging of energy values for up to 20 years

MicroSD slot for data logging of all minute values (6000-M only)

Voltage and current regulation

Temperature compensation

Monthly equalisation charge

Three configurable multifunctional contacts (6000-M only)

Adjustable cut-off voltages

Battery type: gel/liquid lead battery (for 6000-M also Li and NiCd batteries)

Integrated, automatic module switch

36 V and 60 V batteries can be charged with special settings in expert menu level

Parallel connectable
Electronic protection functions
Overcharge protection

Reverse polarity protection of module and battery

Automatic electronic fuse

Open circuit protection without battery

Reverse current protection at night

Overtemperature and overload protection

PE connection
Displays
Multifunction graphical LC display with backlighting
Interfaces for the Steca Tarom MPPT 6000-M
StecaLink Bus

Open Steca RS-232 interface

Battery emergency off signal connection (optional, 6000-M only)
Options
Connection for battery voltage sensor cable
Certificates
Compliant with European Standards (CE)

RoHS compliant

Made in EU

Manufactured according to ISO 9001 and ISO 14001
Accessories
Data cable Steca PA CAB3 Tarcom (6000-M only)

Current sensor Steca PA HS400 (6000-M only)

External temperature sensor Steca PA TS-S (for 6000-M included in the scope of delivery)
Downloads
Certificates
Product data sheet
Further downloads
Manuals
Product pics, technical drawings, etc.
Softwareupdate
Technical data
MPPT 6000-S / MPPT 6000-M
Characterisation of the operating performance
System voltage
Nominal power
Max. DC-DC efficiency

99.4 % (Ubatt=48 V; Uin=70 V; P=0.65*Pnom)

European efficiency

96.6 % (Ubatt=24 V; Uin=30 V) 98.9 % (Ubatt=48 V; Uin=70 V)

European efficiency (weighted across all Ubatt and Uin)
Static MPP efficiency
Dynamic MPP efficiency
Weighted REW (Realistic Equally Weighted efficiency)
Own consumption
DC input side
Min. MPP voltage / input
Max. MPP voltage / input
Min. Open circuit voltage solar module / input (at minimum operating temperature)
Max. Open circuit voltage solar module / input (at minimum operating temperature)
Module current
Battery side
Charge current
End-of-charge voltage
Boost charge voltage
Equalisation charge
Set battery type

liquid (adjustable via menu)

Operating conditions
Ambient temperature
Fitting and construction
Terminal (fine / single wire)
Degree of protection
Dimensions (X x Y x Z)
Weight
Technical data at 25 °C / 77 °F