Steca Solarix PLI
5000-48, 2400-24, 1000-12
X
Steca Solarix PLI
5000-48, 2400-24, 1000-12
Description
Features
Videos
Downloads
Technical data
Compare products
Description
The Steca Solarix PLI is the first product from KATEK Memmingen to offer an all-in-one package. It allows users to supply consumers with 230 V AC power, charges the battery with an integrated MPPT charge controller, and at the same time permits connection to a generator or an available electricity grid.
Everything in a single device.
This means that solar energy can be used as the top priority, for example. And if that isn't enough, a generator can be started or the supply can be switched to the public grid. At the same time, the battery can also be recharged by either the generator or the grid. Given its very quick switchover time of up to 10 ms and its flexible energy priority selection, the Solarix PLI also acts as an
uninterruptible power supply.
Even difficult consumers, such as large AC motors, can be started reliably with dual overload capacity. The maximum power point tracker in the integrated charge controller ensures that, even in unfavourable lighting conditions, the maximum output is obtained from the PV modules in order to optimally charge the battery and supply the consumers with power at the same time.
Features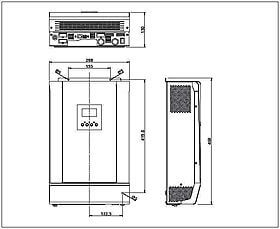 Product features
True sine wave voltage

High overload capacity

Integrated MPP tracker

Multistage charging technology

Monthly equalisation charge

Auxiliary contact for starting the generator

Adjustable cut-off voltages

Battery type: gel / liquid lead battery

Lightweight construction

Easy installation
Electronic protection functions
Overcharge protection

Reverse polarity protection of modules, for battery via fuse

Deep discharge protection

Short circuit protection of load and module

Reverse polarity protection by internal fuse

Reverse current protection at night

Overtemperature and overload protection

Acoustic alarm

PE connection
Displays
Graphical LC display

3 multi-coloured LEDs show operating states
Operation
Simple menu-driven operation

Programming by buttons
Interfaces
RS-232 serial interface to PC
Options
Interconnectable in parallel or in three phases (parallel kit required)
Certificates
Compliant with European Standards (CE)

RoHS compliant

Manufactured according to ISO 9001 and ISO 14001
Downloads
Certificates
Product data sheet
Further downloads
Lithium compatibility
Manuals
Product pics, technical drawings, etc.
Technical data
PLI 5000-48
PLI 2400-24
PLI 1000-12
Characterisation of the operating performance
System voltage
Continuous power
Power 5 sec.
Max. efficiency sine wave
Max. efficiency charge controller
Own consumption standby
Own consumption ON
Input side
Input voltage
Max. current on transfer system
Input frequency

40 ... 65 Hz
50 / 60 Hz (automatic detection)

Transfer time
AC output side
Output voltage

220 V AC … 240 V AC +/-5 %

Output frequency
Battery side
Battery voltage
Max. charge current of PV
Max. charge current of AC
End of charge voltage
Boost charge voltage
Equalisation charge
Set battery type
DC input side charge controller
Min. MPP voltage
Max. MPP voltage
Min. open circuit voltage solar module / input (at minimum operating temperature)
Max. open circuit voltage solar module / input (at minimum operating temperature)
Max. module current
Nominal charge power
Own consumption
Operating conditions
Operating temperature
Storage temperature
Rel. humidity
Maximum altitude
Fitting and construction
Terminal (AC - fine / single wire)
Terminal (PV - fine / single wire)
Battery connection
(M6 ring terminal included)

35 mm² ... 50 mm²
AWG 2 ... AWG 0

35 mm² ... 50 mm²
AWG 2 ... AWG 0

Double throw signal contact

3 A / 250 V AC (max. 150 W)
3 A / 30 V DC

Degree of protection
Dimensions (X x Y x Z)
Weight
Cooling principle
Technical data at 25 °C / 77 °F