Steca Solarix 2020-x2
Dual battery charge controller
Two different battery types can be connected

12 V or 24 V voltage can be combined with main and auxiliary battery

Extremely low own consumption (for example, supported by hibernation mode)

Extensive programming and display options thanks to the remote display Steca PA LCD1

Intuitive, fully graphical remote LCD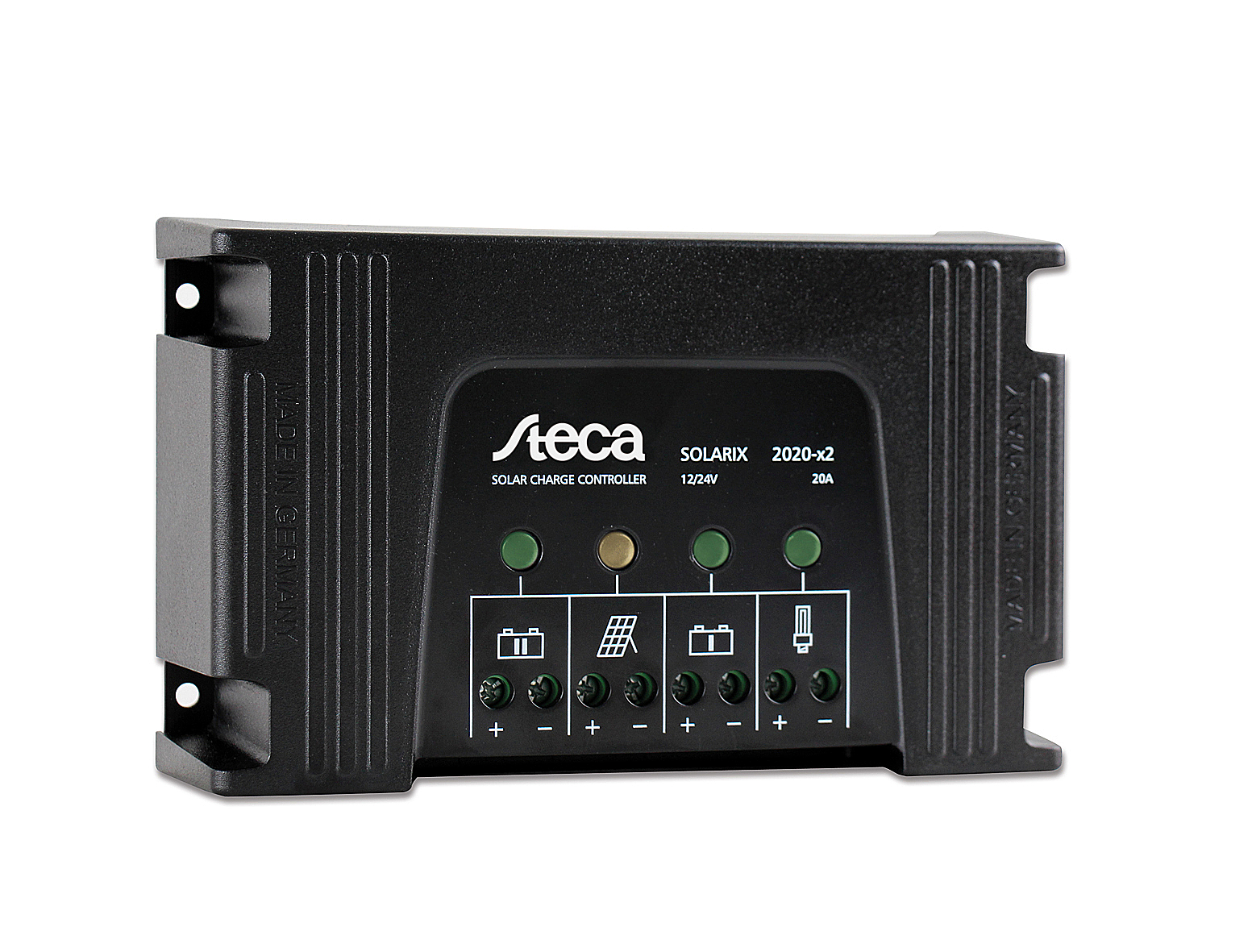 X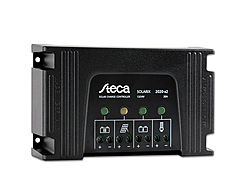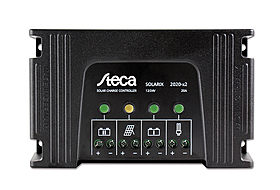 Steca Solarix 2020-x2
Dual battery charge controller
Description
Features
Downloads
Technical data
Compare products
Description
The Steca Solarix 2020-x2 is a state-of-the-art dual battery charge controller that is ideal for use in leisure applications. It is equipped with a solar module input suitable for all 72-cell crystalline solar modules in 24 V systems and for all 36-cell solar modules in 12 V systems. Both main battery and starter battery are charged simultaneously and continuously by the solar module. 90 percent of the available power flows into the main battery while 10 percent of the power is retained to keep the auxiliary battery fully-charged.

The charge power split can be adapted using the Steca PA LCD1 remote display. The charge controller is equipped with a high-power load output fed by the main battery only. The charge controller has a USB charge socket, which can be used to charge smartphones and tablets. Connection of the Steca PA LCD1 remote display is optional.
Features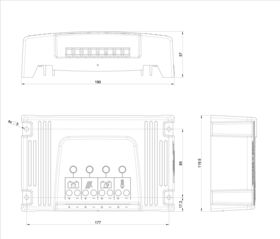 Product features
Serial topology with MOSFETs

Automatic detection of voltage

Voltage and current regulation

PWM control

Multistage charging technology

Current compensated load disconnection

Automatic load reconnection

Temperature compensation

Positive earthing of one or negative earthing of several terminals possible

Integrated self test

Monthly equalisation charge

USB charge socket for smartphones and tablets
Electronic protection functions
Overcharge protection

Deep discharge protection

Reverse polarity protection of module (≤36 V),load and battery

Automatic electronic fuse

Short circuit protection of load and module

Open circuit protection without battery

Reverse current protection at night

Overtemperature and overload protection

Load disconnection on battery overvoltage
Displays
4 LEDs show operating states
Interfaces
Certificates
Compliant with European Standards (CE)

RoHS compliant

Made in EU

Manufactured according to ISO 9001 and ISO 14001
Accessories
Remote display Steca PA LCD1
Downloads
Certificates
Product data sheet
Manuals
Product pics, technical drawings, etc.
Technical data
Solarix 2020-x2
Characterisation of the operating performance
System voltage
Own consumption
DC input side
Open circuit voltage solar module (at minimum operating temperature)
Module current
DC output side
Load current
USB charge socket
Reconnection voltage (LVR)
Deep discharge protection (LVD)
Battery side
End-of-charge voltage
Boost charge voltage
Equalisation charge
Set battery type
Main / auxiliary battery charging ratio
Operating conditions
Ambient temperature
Fitting and construction
Terminal (fine / single wire)

6 mm² / 10 mm² - AWG 10 / 8

Degree of protection
Dimensions (X x Y x Z)
Weight
Technical data at 25 °C / 77 °F
adjustable via Steca PA LCD1: reconnection voltage, deep discharge protection, end of charge voltage, boost charge voltage, equalisation charge, battery type