Steca PR 03-05
PR 0303, PR 0505
Easy to use charge controller

LED display

Automatic battery voltage detection

Full load protection

Low self consumption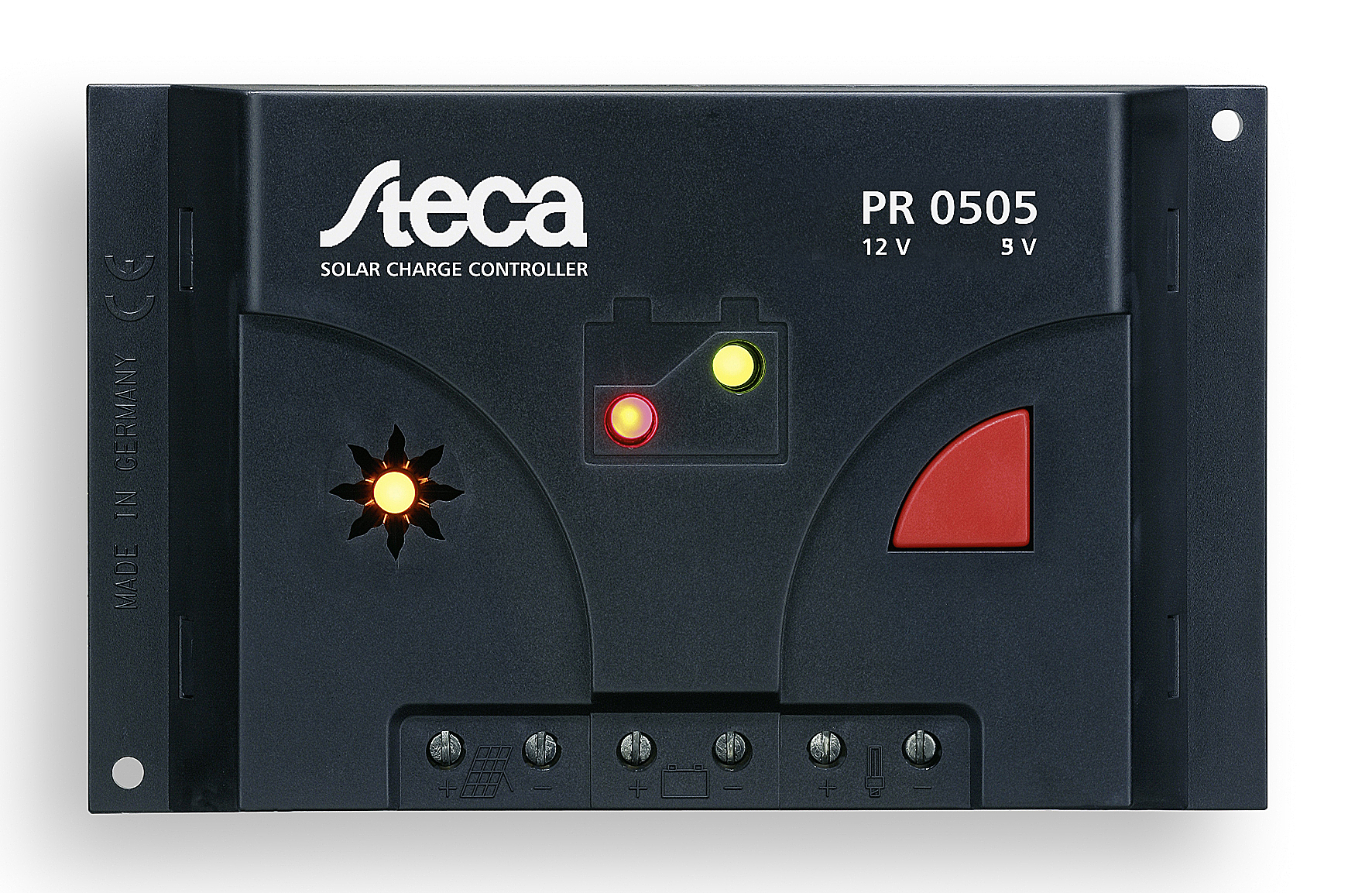 X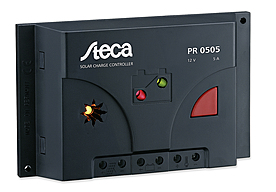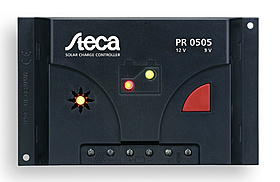 Steca PR 03-05
PR 0303, PR 0505
Description
Features
Downloads
Technical data
Compare products
Description
The Steca PR 0303 and PR 0505 solar charge controllers are optimally suited for use in small solar home systems.
Lights, radios or small television sets, for instance, can be operated
without issue. All loads can be switched off using the manual load switch on the controller. The extremely low own consumption makes the Steca PR especially suitable for professional applications in telecommunications and traffic management technology. Since this is a serial controller, it is extremely flexible in the type of power source that can be connected. The electronic fuse makes the controller completely maintenance-free and robust.
Features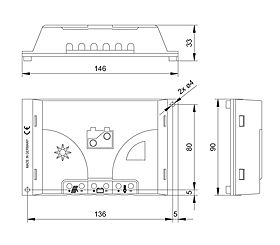 Product features
Serial topology with MOSFETs

Voltage regulation

PWM control

Multistage charging technology

Current compensated load disconnection

Automatic load reconnection

Temperature compensation

Negative earthing of one or positive earthing of several terminals possible
Electronic protection functions
Overcharge protection

Deep discharge protection

Reverse polarity protection of module, load and battery

Automatic electronic fuse

Short circuit protection of load and module

Overvoltage protection at module input

Open circuit protection without battery

Reverse current protection at night

Overtemperature and overload protection

Load disconnection on battery overvoltage
Displays
Multi-coloured LED

3 multi-coloured LEDs show operating states

for operation, state of charge, fault messages
Operation
Certificates
Compliant with European Standards (CE)

RoHS compliant

Made in Germany

Developed in Germany

Manufactured according to ISO 9001 and ISO 14001
Downloads
Certificates
Product data sheet
Manuals
Product pics, technical drawings, etc.
Technical data
PR 0303
PR 0505
Characterisation of the operating performance
System voltage
Own consumption
DC input side
Open circuit voltage solar module (at minimum operating temperature)
Module current
DC output side
Load current
Reconnection voltage (LVR)
Deep discharge protection (LVD)
Battery side
End-of-charge voltage
Boost charge voltage
Set battery type
Operating conditions
Ambient temperature
Fitting and construction
Terminal (fine / single wire)

6 mm² / 10 mm² - AWG 10 / 8

Degree of protection
Dimensions (X x Y x Z)
Weight
Inverters must not be connected to the load output.