Steca Solarix MPPT
3020, 5020
High efficiency maximum power point tracker

Wide input voltage range

LED display

Automatic battery voltage detection

Full load protection
X
Steca Solarix MPPT
3020, 5020
Description
Features
Downloads
Technical data
Compare products
Description
Steca Solarix MPPT are solar charge controllers with maximum power point tracking. These are suitable for all common module technologies and are optimally suited for solar systems with module voltages higher than the battery voltage. In particular, such inexpensive PV modules that are used for grid-connected systems can also be used off-grid.

Steca's efficient MPP tracking algorithm always provides the maximum usable power of the module, significantly increasing energy yield, especially in poor weather conditions (cloud cover, winter, diffused light). The Steca Solarix MPPT charge controllers combine state-ofthe-art charging technology with high efficiency, professional battery care with numerous programming options, modern design, excellent protection functions and an intuitive LC display with menu guidance.

For remote monitoring, KATEK Memmingen provides the cost-efficient item PA WiFi1 as an optional accessory.
Features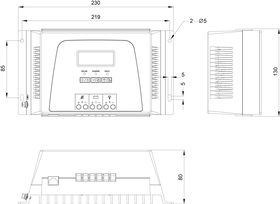 Product features
Maximum Power Point Tracker (MPP tracker)

Voltage and current regulation

Automatic load reconnection

Temperature compensation

Positive earthing of one or negative earthing of several terminals possible

Monthly equalisation charge
Electronic protection functions
Overcharge protection

Deep discharge protection

Reverse polarity protection of module, load and battery

Reverse polarity protection by internal fuse

Automatic electronic fuse

Short circuit protection

Overvoltage protection at module input

Open circuit protection without battery

Reverse current protection at night

Overtemperature and overload protection

Load disconnection on battery overvoltage
Displays
Multifunction LED display

Multi-coloured LED

5 LEDs show operating states

for operation, state of charge, fault messages
Options
Evening or night light function pre-set in the factory or adjustable via Steca PA RC 100

Parameterisation of function values via Steca PA RC 100
Certificates
Compliant with European Standards (CE)

RoHS compliant

Manufactured according to ISO 9001 and ISO 14001
Accessories
Steca PA RC100

External temperature sensor Steca PA TS10
Downloads
Certificates
Product data sheet
Further downloads
Manuals
Product pics, technical drawings, etc.
Technical data
Solarix MPPT 3020
Solarix MPPT 5020
Characterisation of the operating performance
System voltage
Nominal power
DC input side
Open circuit voltage solar module (at minimum operating temperature)

17 V … 100 V (34 V … 100 V)

17 V / 34 V / 68 V < Umodul < 150 V

Module current
DC output side
Load current
Reconnection voltage (LVR)
Deep discharge protection (LVD)
Battery side
Charge current
End-of-charge voltage
Boost charge voltage
Equalisation charge
Set battery type
Operating conditions
Ambient temperature
Fitting and construction
Terminal (fine / single wire)
Degree of protection
Dimensions (X x Y x Z)
Weight
Technical data at 25 °C / 77 °F
Inverters must not be connected to the load output.
caution_open_circuit_voltage_100